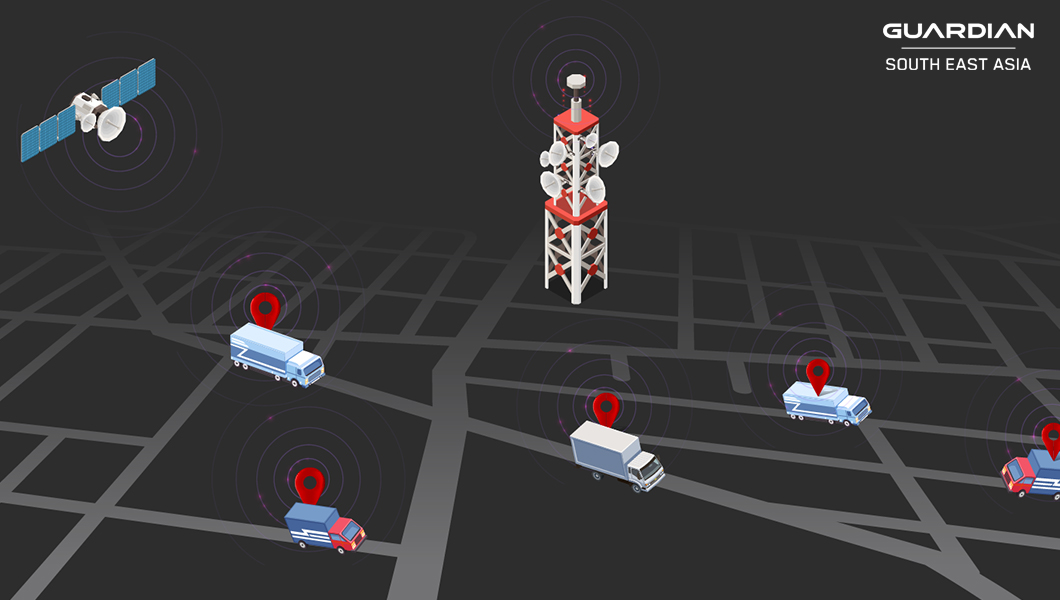 The Importance of Fleet Asset Tracking
Fleet asset tracking is a management method that uses vehicle GPS tracking to monitor a fleet's activities including the vehicles and assets involved. It allows the management of all fleet and asset information to improve overall transportation operations.
Fleet management systems are an essential part of many businesses. When it comes to the company's vehicles, organisations are required to handle many complicated logistics while delivering goods on time. To manage this, the fleet must be able to be tracked at all times while it is still on route. Fleet asset tracking records are used in a number of ways to improve efficiency, control risk, and ensure compliance with statutes and regulations in relation to commercial vehicles.
How Does it Work
Fleet tracking systems work via different technology sources such as GPS, mobile networks, Internet and mapping software to track vehicles.
Receivers on Earth can pick up GPS signals transmitted by satellites, which estimates the location of a vehicle within a 5- to 20-foot radius. The on-board vehicle GPS tracking system then stores the location data once it has been calculated. With that, let's take a closer look at vehicle GPS tracking systems and fleet asset tracking software.
GPS Tracking
GPS tracking uses the Global Navigation Satellite Systems (GNSS) network, which features more than 20 satellites and ground stations. Information including speed, idle time, direction, diagnostics and vehicle location is generated through signals emitted by these satellites. This data can then be accessed online by business owners through phone, tablet, computer as well as a digital map of the vehicle's location. With the ability to generate real-time information, vehicle GPS tracking systems have become highly popular in fleet management systems, allowing fleet managers to be updated on the status of their fleets at all times. In addition, modern tracking systems have advanced and can alert fleet managers of drivers' careless driving. They can even customise their fleet asset tracking system to suit their business.
Asset Tracking Software
Not only can you track and monitor your fleet vehicles in real time with an asset tracking software, but some of them even possess preventive maintenance capabilities that can anticipate breakdowns before they occur. This provides fleet managers with a better insight as to when repairs and maintenance should be scheduled to reduce repair costs, increase the lifecycle of assets and boost operations uptime. Moreover, more modern fleet asset tracking systems enable the generation of reports and assessment of important details including asset utilisation and real-time location. Ultimately, asset tracking software centralise fleet operations and empower a seamless tracking process, giving fleet managers a greater understanding and control over their fleet asset.
Benefits of Fleet Asset Tracking
Reduce Costs
A fleet asset tracking system can reduce cost in many ways. Firstly, it helps fleet managers monitor fuel used, allowing for more effective fuel management to eliminate unwanted fuel waste. Secondly, with a tracking camera integrated, fleet managers can better observe their drivers which reduces the likelihood of poor driving behaviours that may lead to unnecessary downtime and unwanted breaks. When uptime is maximised, less cost is wasted. Theft and loss of equipment can be prevented with asset tracking. With accurate vehicle GPS tracking, fleet managers can pinpoint asset location in near real time for quicker recovery of assets.
Preventive Maintenance
As mentioned above, preventive maintenance allows fleet managers to schedule repairs and maintenance before vehicle breakdowns occur. Since electronic tracking can record machine hours and mileage accurately, fleet managers can leverage on this data to enhance preventive maintenance scheduling, which minimises breakdowns and maximises asset productivity. This is important in fleet management systems as it helps to eliminate the possibility of equipment problems that could stall an entire project. They also stay compliant with relevant regulations and lowers the risk of accidents caused by faulty equipment or sudden shutdowns.
Greater Efficiency
Fleet asset tracking empowers greater efficiency. As drivers are aware of the constant monitoring of their vehicle while on route, discipline is enforced reducing the potentiality of reckless driving, unauthorised stopovers and deviation from set routes. As the transportation of goods continues in an efficient manner and goods arrive on time, revenue, customer satisfaction, and safety are all enhanced, thereby improving overall business operations.
Conclusion
In today's highly digitalised landscape, fleet asset tracking has become an integral for fleet managers to enhance their operations. From greater cost savings and safety to a more seamless and efficient fleet management process, the benefits gained are extremely valuable for businesses.
Guardian SEA's suite of fleet management systems are here to help your business operate at its optimum. Contact us for more information today!